Student Parking Permit
Parking permits are required to park on campus
Fall Quarter 2023 permits will be available starting September 11th for registered students.
Get your permit here:
North Seattle College encourages students who drive to park on campus and not in the surrounding neighborhood.  Students can purchase quarterly parking permits online here. Do not create a new parking account.  Scroll down to "Get Permits" and log in with your MySeattleColleges credentials. You must be a registered student at North with all your outstanding fees from the prior quarter paid in full to be eligible. 
Student quarterly permits will become available for purchase 2 weeks before the start of each quarter.
The quarterly permit is virtual and is tied to your vehicle's license plate and is valid immediately upon purchase.
Where to Park
Student parking is located around the perimeter of the campus in the North Lot, NE Lot, East Lot, South Lot, SW Lot, and West Lot.  Students may not park in the Parking Garage, Loading Areas, Visitor Parking Lots, and OC Visitor Lots.  Students who need special parking accommodations should reach out to the Transportation office.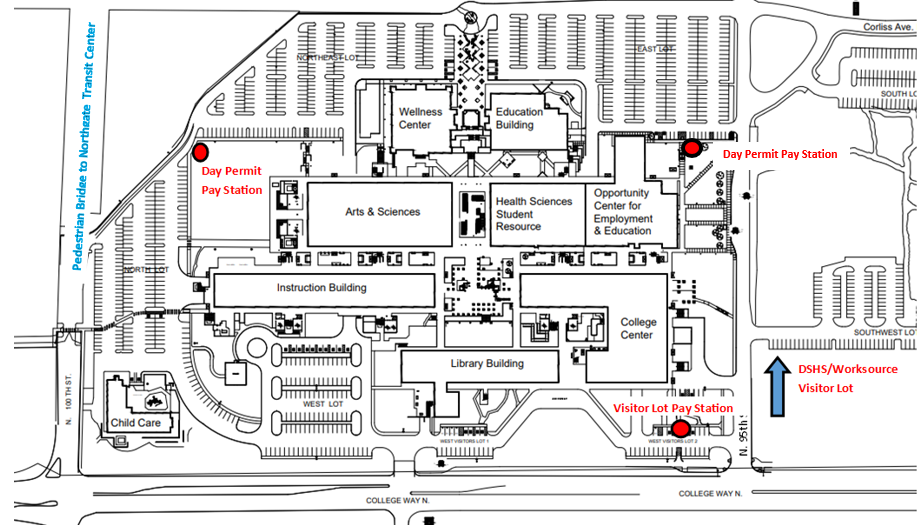 For a comprehensive list of parking rules and regulations, please see this WA state page.
Student Quarterly Parking Rates
| Type | Quarterly Rate |
| --- | --- |
| ALL DAY | $50.00 |
| EVENING (AFTER 4PM) | $25.00 |
| CARPOOL | $39.00 |
| TMP FEE | $15.00 |
Parking fees include all applicable commercial parking tax and retail sales taxes.
Carpool Permits
A carpool is defined as two or more individuals commuting together for at least 50 percent of the carpool's longest individual commute distance. Participants must be old enough to be eligible for a Washington state driver's license.
Students must present their class schedules when applying for the carpool program, to demonstrate that they are on campus together at least 3 times per week.
Special carpool parking is provided in the West Lot for those with carpool permits.
Contact the Transportation Coordinator during the first 2 weeks of each quarter to register your carpool and obtain a permit.
Parking Citation
If you received a parking citation, you have the right to pay or appeal the fine.  Payments are made in the Parking Portal.  To schedule an appeal, email TMOAppeals@seattlecollegs.edu.  Visit HERE for a full list of fines and appeal process.
Parking Lot Safety
Do not leave any valuables in plain sight.
Remove or hide anything that a car prowler might mistake as something worth stealing.
If valuables must be left behind, hide them out of sight several blocks away before parking.
Contact Campus Safety and Security to request an after dark escort or to report suspicious activity or theft.
Permit Refunds
If all classes are dropped before the sixth instructional day of the quarter (first week), full refund, less $5 fee.
If all classes are dropped between the sixth and fifteenth instructional days (third week), 50 percent refund.
No refunds after the third week of the quarter.
Please allow up to 6 weeks to process refunds.