Employee Orca Card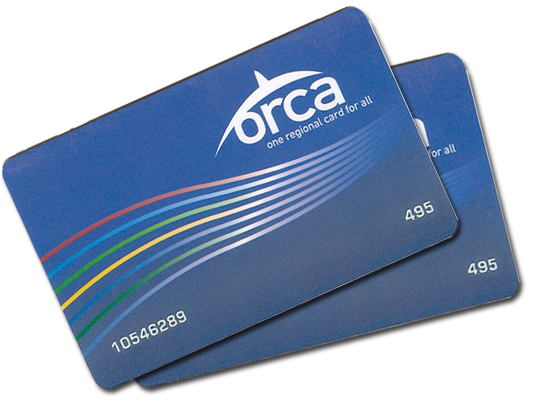 The ORCA Card is a regional, public transit pass which can be used by employees to ride regular Metro, Sound Transit, Pierce Transit, Kitsap Transit, Community Transit, and Everett Transit bus service anytime, anywhere all over King, Snohomish, Pierce, and Kitsap Counties. The pass is available to employees at a subsidized rate and can be used for personal as well as college use.
Public transportation includes Link Light Rail system, Metro streetcars (the South Lake Union Trolley and the Broadway streetcar), the Sounder Train (Everett to Tacoma), some Amtrak Cascades trains between Seattle and Everett, the King County Water Taxis (West Seattle and Vashon routes) and the Kitsap Transit Foot Ferry (Port Orchard and Annapolis Routes) as well as the Bremerton-Seattle Fast Ferry.
To be eligible for a subsidized ORCA Card, an employee must join the District's Transportation Management Plan (TMP) which offers incentives for using smart transportation methods of commuting. Employees may buy either the ORCA Card or the parking permit, but cannot purchase both according to Employee Orca Rules (pdf).
Employee ORCA CARDs are $51/quarter, plus $10 TMP quarterly fee.
Reloadable ORCA Cards for permanent, fulltime, or benefits eligible employees
Payroll deduction is available to permanent employees with at least 50 percent employment.
Complete the ORCA/TMP payroll deduction form.
Transportation Services Office will contact you when your card is available for pickup.
ORCA cards are renewed on a yearly basis and re–loaded upon request.
New cards are not needed each quarter.
Summer Quarter Options for full–time faculty: If an employee has payroll deduction and wants to use the ORCA card during the summer months while not teaching, do nothing and the entire summer quarter fee will be deducted from the end–of–year paycheck.
ORCA Card Reload
Please Note: The following procedure is for permanent employees on ORCA payroll deduction only.
When requesting more funds, please email the following information to transportation@seattlecolleges.edu:
Full name
What campus you are from
CTC Link number
Numbers on the front of the Orca Card
If you have not yet created an account at Myorca.com you will need to do so.
Quarterly Orca Cards for part–time, hourly and temporary employees:
Complete the employee transportation quarterly form (pdf) and bring with payment to campus cashier during open hours.
Cards are generally available one week prior to the quarter start.
No refunds are given for either the ORCA Card or the TMP fee.
Register your card with MyOrca.com
Resources:
King County Metro Blog:  Metro Matters
Metro's social media channels 
Facebook: www.facebook.com/kcmetro
Twitter: @kcmetrobus
Instagram: @kcmetrobus
YouTube: www.youtube.com/user/KCDOTVideo