WELCOME TO SMC

SMC REMOTE SERVICES IN RESPONSE TO COVID-19:
SMC team offers remote media production assistance for all North students, during SMC regular service hours on Monday - Thursday
Presentations
Visual projects
Audio and video recording
Media software use
Media production technology
Basic design
Media Literacy and copyright
SMC tour via Zoom
Our alternative assistance options are by email, phone, Zoom, Teams, and/or Canvas. Please email or call us to find out how we can help.
Students can have remote access to media software, such as PowerPoint, Publisher, and Adobe CC. More on remote software options...
SMC also provides help with remote recording including PowerPoint, Panopto, iMovie, and Teams. More on recording options...
SMC equipment lending service is NOT available for now, until further notice. All checked out items in winter quarter have their due dates automatically updated. More on equipment update...
We still collaborate with faculty and staff, no matter where we are. If you need a class tour for SMC services through Zoom, please just email or call us.
HOW TO REACH SMC: 
Call 206-934-0070 and leave a message including your contact information
---
STUDENT SUPPORT SERVICES:
Please Note: North Seattle College has moved to remote operations due to COVID-19. Students should avoid campus during this time. Please see northseattle.edu/coronavirus for the latest information.
 

The Student Media Center (SMC) is part of North Seattle College Library services and funded by the Student Leadership. We provide students with access to media production resources, assistance, and instruction enabling them to incorporate audiovisual and print media into their course assignments, presentations, college activities, student clubs, and academic portfolios. The SMC offers multimedia equipment and resources for in-house use or for seven-day checkout. We also work collaboratively with faculty and staff, to focus on, how SMC can help students to meet their needs and to advance student success. Meet the SMC team.
The SMC is located on the upper floor of the Library. Please drop-in for assistance.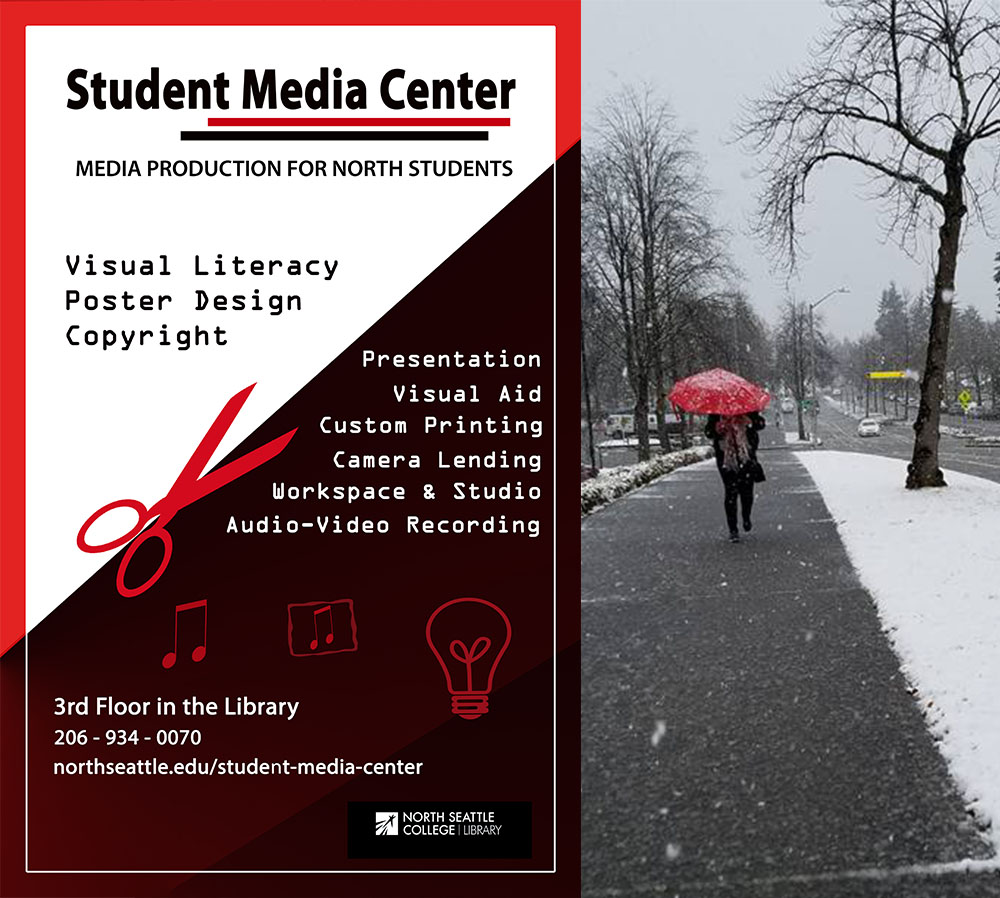 ---
SMC Home  |  SMC Resources  |  Printing  |  Workspaces  |  Equipment  |  Software  |  Visual Literacy
SMC HOURS:
Remote Services
(04/06 - 06/18)
Mondays 9 am - 6 pm
Tuesdays 9 am - 6 pm
Wednesdays 11 am - 8 pm
Thursdays 9 am - 6 pm
Note: SMC will be closed during the break (06/19 - 06/28), and will resume with the same remote service hours in summer, Monday 06/29

CONTACTS:
Kannika Styron
SMC Program Manager
206-934-0070
SMC Email
Hours: same SMC service hours, Mon - Thu (No hours during quarter breaks)

LOCATION:
NSC Library, LB3131A