WELCOME TO SMC
NEWS! Student hourly job | Equipment services | New equipment
SMC REMOTE SERVICES IN RESPONSE TO COVID-19:
SMC team offers virtual media production assistance for all North students during SMC remote service hours on Monday - Thursday. Our alternative assistance options are by email, phone, Zoom, Teams and/or Canvas. Please email or call us to find out how we can help.
Media production technology
SMC tour via Zoom
Borrowing: Currently enrolled students who need to borrow SMC equipment for class assignments can pick up equipment at the NSC Library by appointment during SMC drop-off/pick-up hours. More details on borrowing...
Returning: Students can return SMC equipment items to the NSC Library by appointment during SMC drop-off/pick-up hours. More details on returning...
Please note information/questions about Chromebooks, hotspots, headsets w/microphone, MacBooks for the Application Development Program, and cameras for the Early Childhood Education Program, please visit the Library equipment page or contact the Circulation staff, casey.chow@seattlecolleges.edu and/or susan.rosenbaum@seattlecolleges.edu.
Students can have remote access to media software, such as PowerPoint, Publisher, and Adobe CC. More on remote software options...
SMC also provides help with remote recording including PowerPoint, Panopto, iMovie, and Teams. More on remote recording...
We collaborate with faculty and staff, no matter where we are. If you need a class tour for SMC services through Zoom, please just email or call us.
HOW TO REACH SMC: 
Call 206-934-0070 and leave a message including your contact information
---
STUDENT SUPPORT SERVICES:
Please note NSC is operating remotely in response to COVID-19. Limited campus entry procedures are now in place. Learn more.
 

The Student Media Center (SMC) is part of North Seattle College Library services and funded by the Student Leadership. We provide students with access to media production resources, assistance, and instruction enabling them to incorporate audiovisual and print media into their course assignments, presentations, college activities, student clubs, and academic portfolios. The SMC offers multimedia equipment and resources for in-house use or for seven-day checkout. We also work collaboratively with faculty and staff, to focus on how SMC can help students to meet their needs and to advance student success. Meet the SMC team.
The SMC is located on the upper floor of the Library. Please drop-in for assistance.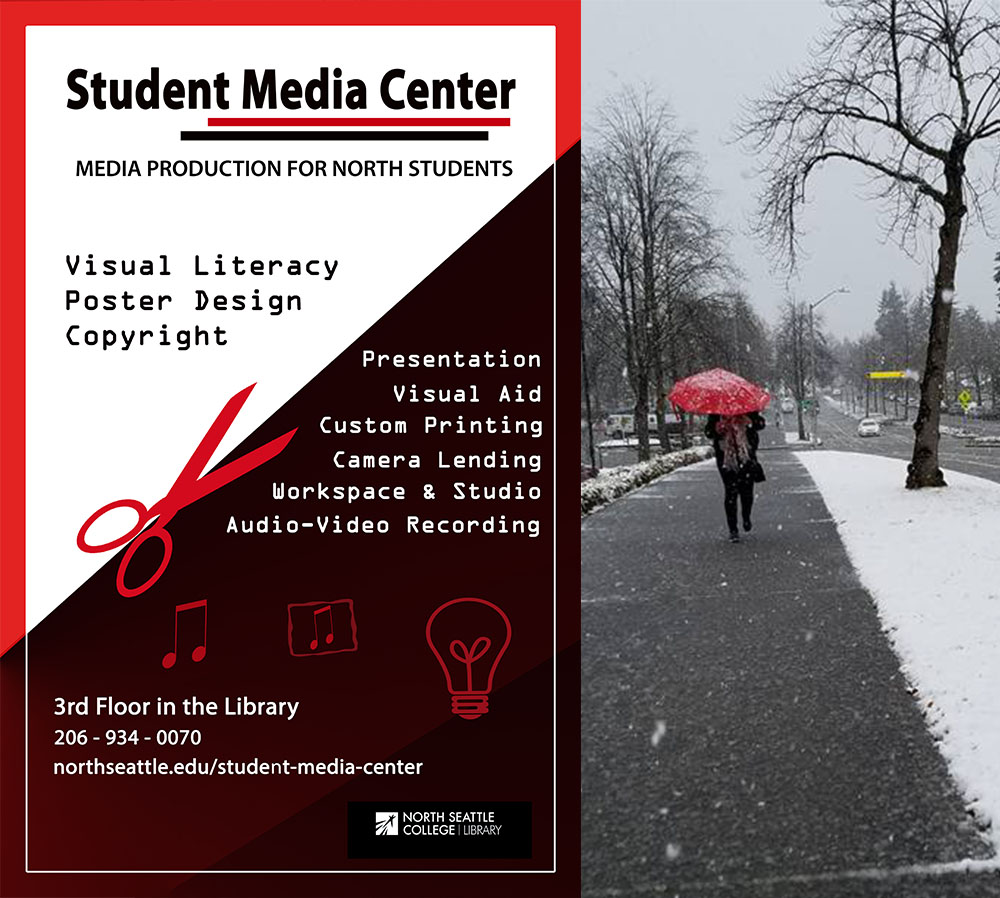 ---
SMC Student Hourly Job for Fall 2020
Are you interested in joining the SMC team as a Student Media Center Navigator? If you are a Fall-enrolled student, you may apply for the position. The applications will be accepted and reviewed, starting September 21 - October 02, 2020.
Please note this job is not a work-study based Financial Aid award position.
How to Apply
---
SMC Home  |  SMC Resources  |  Printing  |  Workspaces  |  Equipment  |  Software  |  Visual Literacy
SMC HOURS:
Remote Service Hours
(Summer: 06/29 - 08/19)
(Fall: 09/29 - 12/17)
Monday - Thursday
9:00 am - 6:00 pm
SMC drop-off/pick-up hours
Note: SMC services are CLOSED Fri - Sun, Thu 08/20 (furlough), and during the break (08/24 - 09/28); Fall begins 09/29

CONTACTS:
Kannika Styron
SMC Program Manager A
206-934-0070
SMC Email
Hours: M-TH, 9am - 6pm, except TH 08/20 (furlough), no hours during a quarter break, Fall begins 09/21

LOCATION:
NSC Library, LB3131A