If you are currently experiencing a crisis situation, please call 988, 911 or contact CRISIS CONNECTIONS: 1-866-427-4747 (24-HR Crisis Line)
Counseling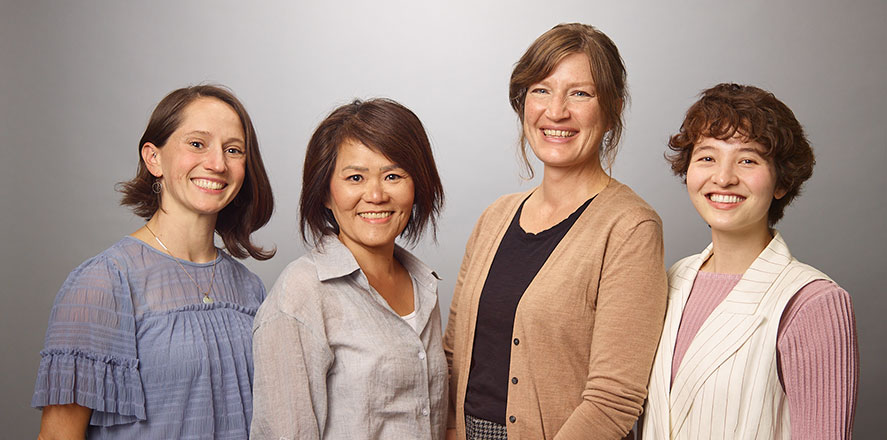 Who are counselors: Counselors are faculty members holding masters and doctorate degrees specializing in solution focused, short-term counseling of college students.
What we do: North's counselors are trained to help students cope with various personal life challenges and concerns that may impact personal and academic performance.
How we'll work together: We use theoretical and research-based approaches such as career counseling, learning-theory, cognitive neurobiology, life-span developmental counseling, multi-cultural counseling, crisis counseling and other generalist approaches to help students achieve success and satisfaction in college.
Frequently Asked Questions
Schedule an appointment by completing this counseling request form and informed consent. Once your information is received, a staff member will contact you within 1-2 business days to confirm your appointment.
Or make an appointment in person at the counseling front office. We are located in the student services suite, on the second floor of the north end of the College Center building (see map).
Other ways to schedule an appointment: email nsccounseling@seattlecolleges.edu or call 206-934-3676
NSC counselors provide individual counseling to enrolled students who want to discuss personal concerns with a counselor. Concerns vary from coping with college life challenges to more severe, emotional, and interpersonal concerns. Counselors work closely with students to identify counseling goals, and counseling faculty help students learn skills to succeed in college such as:
Managing stressful situations, regulating emotions, and locating resources
Identifying career interests, choosing an academic program and career path
Strengthening study skills (helping with procrastination, concentration, memory, time-management, test-taking skills)
Managing crises
Students work with counselors in short-term formats to learn skills for success in college. Their concerns may include but are not limited to:
Academic performance concerns such as procrastination, difficulty concentrating, wanting to improve organization, memory, or test-taking
Time-management/task-management
Self-confidence
Undecided major/unclear academic or career goals
Worry
Sadness
Discrimination
Crisis intervention and referral
Identifying community resources and providing resource navigation support
North counselors are not qualified to assess, diagnose or treat medical conditions such as mental/psychiatric disorders. North counselors help students discuss their concerns and assist students seeking referral resources suited to their goals.
Counseling services are not available in the evenings, weekends, quarter breaks or during the summer quarter. Please refer students to Community Resources.
We serve North Seattle College students of all ages, races, ethnicities, tribal affiliations, countries of origin, citizenship statuses, gender identities, sexual orientations, bodies, abilities, neurotypes, socioeconomic statuses, spiritualities, and personal and ancestral experiences.
The counseling department welcomes you as your authentic, complete self.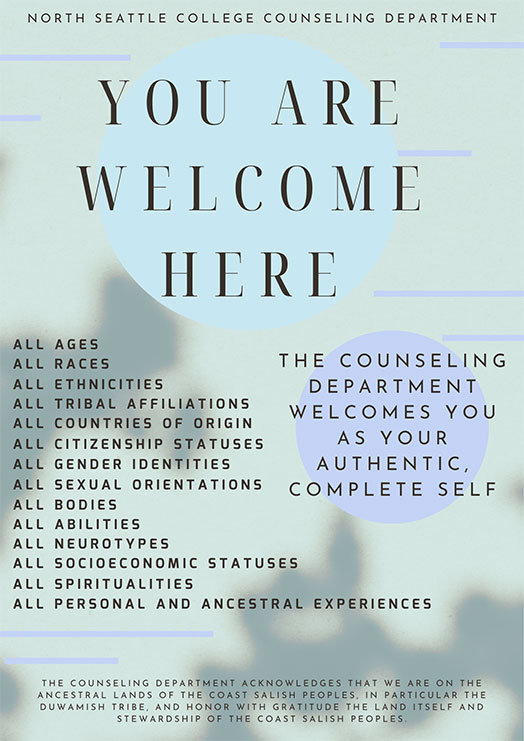 In addition to individual counseling, North counselors:
Teach human development courses (1-3 credits per course)
Facilitate quarterly workshops on topics such as time management, career exploration, and stress management
Offer drop-in consultations in The Grove on M-Th from 12pm-1pm. Learn more here.
Co-facilitate the Fun, Games, & Well-Being Café in The Grove from 2-3pm on Tuesdays
Offer collaborative classroom visits on student success and wellbeing topics
And co-sponsor many mental health and wellness events with other services on campus