Tutoring
Welcome to the Student Learning Center 
The SLC computer is open as a study space at 9am - 5pm Fall Quarter. Tutoring opens at 10am in-person and online. Please see our Canvas Shell for each subject's individual in-person and online hours.

Mission
The Student Learning Center (SLC) is dedicated to inspiring students at North Seattle College (NSC) to become independent, life-long learners who engage in deep inquiry and metacognitive reflection while building community through one-on-one tutoring, the tutor navigator program, academic skills workshops, and supplemental courses.  SLC Tutoring Services are offered FREE to all students at North Seattle College.
---
Free In-Person Hours
For drop-in Math & Science and Page One Writing tutoring
Dates: October 2nd -- December 12th (Page One) & 13th (Math & Science.)
Hours: Monday – Thursday 10 am – 3 pm for tutoring
For in-person Study Space hours: 
Dates: September 26th -- December 13th
Hours: Monday – Thursday 9am - 5pm
Location: HSSR1636 (first floor of the Grove)
Holidays: Closed on major & nationally-recognized holidays- specific notices posted on Canvas
---
Free Online Hours 
Tutoring is available in the Biology & Chemistry Learning Center, Math & Science Learning Center, Professional & Technical Learning Center, Page One Writing & Language Center. Please see the web page on the sidebar or our SLC Canvas shell for operating hours and tutor schedules.  
For Drop-In Tutoring via Zoom: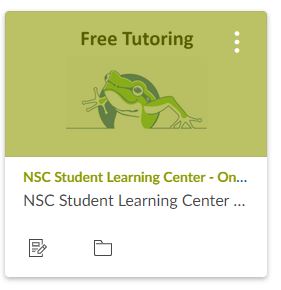 Student Learning Center Videos 
Pathfinding to the In-Person Student Learning Center
5 Things Students Should Bring to Every Tutoring Session
Accessing Online Tutoring with a Few Easy Clicks