Visual Literacy

Visual and Media Literacy

Visual literacy is the ability to effectively access, interpret, evaluate, and create visual messages. Another way to describe visual literacy is how to read and communicate the meaning of images. The ACRL indicates, "visual literacy skills equip a learner to understand and analyze the contextual, cultural, ethical, aesthetic, intellectual, and technical components involved in the production and use of visual materials." 
Visual literacy concepts are fundamental to media literacy. The CML states, "Media Literacy is the ability to access, analyze, evaluate and create media in a variety of forms" such as audio, video, prints, and social media.
The SMC provides students with assistance and instructions on how to integrate visual and media literacy into course assignments and college activities such as visual aids, presentations, and audio-visual media.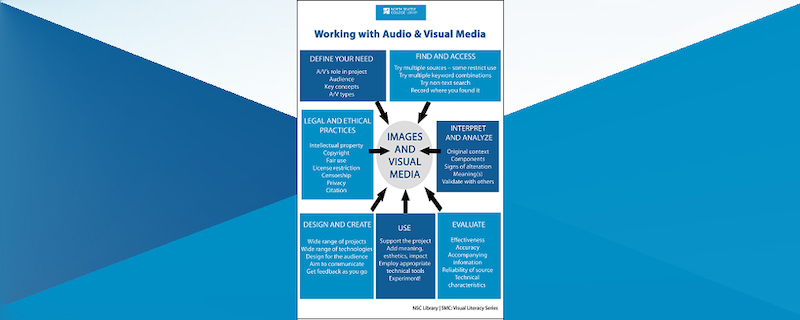 ---
Copyright & Ethical Use

Copyright is a form of protection provided by federal law to any original work of authorship, published or unpublished.  Copyright protects written, visual, artistic and musical work, and offers the original creators the right to sell, reproduce, perform, display or distribute their work.  Copyright holders have the right to permit the use of their work by others, for free or for a fee.
All members of the NSC community are expected to adhere to the provisions of United States Copyright Law and to take responsibility for copyright compliance. Please do not use copyrighted images, music, or video clips in the posters, presentations, or podcasts, or videos that you make for school assignments unless you are citing the source and meeting the fair use guidelines. Copyright protects text, images, audio, and video that are available online. The copyright mark may not be visible, but these items are still protected under law. 
Learn and know more
For quick information, please see this list of Frequently Asked Questions on the U.S. Copyright Office website.
---
Citation

It is good practice to always attribute the credits of any creators on your media project work and cite your image and audio sources appropriately.
---
Public Domain & Creative Commons

Public Domain: A work is in the "public domain" if it is no longer under copyright protection or if it failed to meet the requirements for copyright protection. Works in the public domain may be used freely without the permission of the former copyright owner.  – Copyright.gov
It is still good practice to attribute the creator of a work in the public domain.
Creative Commons: Creative Commons-licensed content can be used without permission -- as long as you attribute the creator and follow the license terms. Creative Commons licenses are designed to allow creators to give the public permission to share and use their creative work – with special conditions. About the License.
---
Content Resources

If you are looking for alternative content sources, such as images and music for your presentations or audio-visual projects, please visit the Content Resources page.  
NSC Library or SMC is not responsible for the contents of any external sites; nor are we responsible for how that content is used.  Please read the rules/directions for use and legal notices on each site.
---
SMC Home  |  Resources  |  Printing  |  Workspaces  |  Equipment  |  Software  |  Visual Literacy