Cameras & Equipment

SMC EQUIPMENT SERVICES:    
 
SMC has media equipment available for currently enrolled North students to check out for their class assignments and college activities, such as cameras, lenses, camcorders, tripods, laser pointers, drawing tablets, and more at no cost. Students need to make a request through an online form. Please refer to the links below for more details.
Please note if students need to borrow or return Chromebooks, hotspots, headphones, or program-specific equipment, please visit the Library or contact the Circulation department at nsclibrarycirc@seattlecolleges.edu.    

If you are faculty/staff and need to check out AV equipment, please visit the TLC equipment page.    
 

BORROWING SMC EQUIPMENT
How to Borrow:
Fill out the SMC request form. In order to keep more equipment available to students, each student may check out two (2) equipment kits/sets in different categories at a time. 
Read, fill out (include your signature), and submit the SMC equipment lending contract online
Proof of class enrollment and/or instructor's permission may be required
Wait for confirmation from SMC staff via email if equipment is ready for pick up. Please allow time to process your request and prepare equipment. The process may take up to 3-5 business days after you have completed your request including contract submission. Please note SMC's business days are Monday - Thursday.
All students who come on campus need to follow campus safety and entry procedures
Pick up equipment at the SMC on the 3rd floor of the College Center, CC3360. Please check the SMC's in-person hours before picking up. Please present your photo ID. Students will be asked to check all items in the kit/bag with the equipment checklist. We will hold the equipment for five business days before releasing it to another student.
During the loan period, students may be asked to report equipment status periodically via email. Please make sure to keep your contact information current and respond to SMC staff. Failure to respond may result in equipment lost status and replacement fees. Learn more about the SMC lending policy.

RETURNING SMC EQUIPMENT
All items that students borrowed must be returned by the due date. If you can not make it by this day, please contact SMC staff as early as possible and before the due dates to prevent lost status and replacement fees. Note that the SMC is closed Friday - Sunday and during quarter breaks.
How to Return:
Return equipment in person to SMC staff at a specified location. Please check the location on the SMC website before coming. Students may be asked to show all items in the equipment kit.
Please be sure to return all of the cables, bags, and accessories that came with the equipment you checked out. The equipment will not be officially checked in until all pieces are present. 
All students who come on campus need to follow campus safety and entry procedures
Please allow time to process your returned items. The items may stay in students' records until SMC staff officially checks the equipment in and when it is confirmed to be complete and functional. Students will not be charged any overdue fines during this process. A returned confirmation may be requested.
For late equipment returns, please make an appointment with SMC staff to return the items as soon as possible. All overdue items and fines will stay on the student's records during the SMC closure, and until the late items and all components are returned in good condition.
Note: All SMC services are closed during quarter breaks, and SMC staff cannot receive equipment returns during this time.
Learn more about the SMC return policy.


All media items at the SMC are for academic use by North Seattle College students.
    Digital cameras both DSLR and Point-and-Shoot

    External lenses for Nikon and Canon

    Cell phone tripod adapters
Note: Some equipment owned by the Art Department and reserved for specific art classes.    
 
---
NEW EQUIPMENT AVAILABLE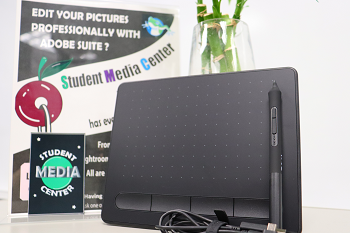 Graphic Drawing tablets
Sony ZV-E10 Mirrorless camera
Canon EOS Rebel T8i camera
Dell Mobile projector M318WL
Backdrop stands
Laser pointers
Students can make a request through the SMC online request form.
See more details of the new items from the SMC equipment catalog.
---
HOW TO CONTACT SMC    
 
Call 206-934-0070 during SMC service hours, and leave a message including your contact information    
 
---
ACADEMIC USE CONTRACT    
 
Media equipment items have a 7-day checkout period unless otherwise specified. Kits must be returned in complete condition. The media equipment lending contract needs to be completed prior to checking out materials.
Learn more about SMC lending policy     
 
---
SMC Home  |  Resources  |  Printing  |  Workspaces  |  Equipment  |  Software  |  Visual Literacy