ORCA Transit Pass
Discounted carpool permits are available for students and employees. Free, sheltered bike racks are conveniently located in various places throughout the campus.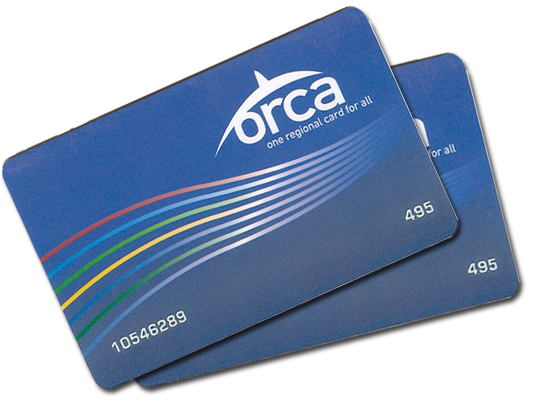 The ORCA Card is a regional, public transit pass which can be used by students and employees to ride regular Metro, Sound Transit, Pierce Transit, Kitsap Transit, Community Transit, and Everett Transit bus service anytime, anywhere all over King, Snohomish, Pierce, and Kitsap Counties. The pass is available to eligible students and employees at a subsidized rate and can be used for personal as well as college use. You may purchase an ORCA Card at the Cashier's Office CC 2455D or for employees, by initiating a payroll deduction by contacting Blake Pitt at NSCTransit@seattlecolleges.edu.
Transit Subsidies
Transit Subsidies are available for both eligible students and employees who are not well served by an ORCA Card, and who do not purchase a campus parking permit; a student can receive up to $60/quarter and an employee can receive up to $58/month for using the Washington State Ferry service as a walk-on passenger.
Visit orcacard.com or call 888-988-6722 /TTY 711 during regular business hours, Monday – Friday, 8 AM – 5 PM for additional information regarding ORCA Cards.
Lost ORCA Card
Please take good care of your pass - North cannot replace lost, stolen, or misplaced ORCA cards. If you lose it, you'll need to purchase a new one at the current price.
All sales are final. North cannot provide TMP fee refunds or ORCA card refunds or exchanges. At no time during the quarter may employees or students who have purchased an ORCA exchange it for a parking permit, or vice versa.