ORCA Transit Pass
Discounted bus passes and carpool permits are available for students and employees. Free, sheltered bike racks are conveniently located in various places throughout the campus.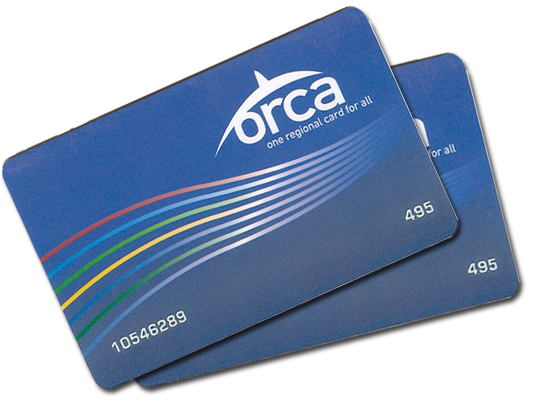 The ORCA Card is a regional, public transit pass which can be used by students and employees to ride regular Metro, Sound Transit, Pierce Transit, Kitsap Transit, Community Transit, and Everett Transit bus service anytime, anywhere all over King, Snohomish, Pierce, and Kitsap Counties. The pass is available to eligible students and employees at a subsidized rate and can be used for personal as well as college use.
Public transportation includes: Link Light Rail system, Metro streetcars (the South Lake Union Trolley and the Broadway streetcar), the Sounder Train (Everett to Tacoma), some Amtrak Cascades trains between Seattle and Everett, the King County Water Taxis (West Seattle and Vashon routes) and the Kitsap Transit Foot Ferry (Port Orchard and Annapolis Routes).
North Seattle College students can purchase an Orca card for $125.00 with an TMP ($15.00) fee paid. North Seattle College Orca cards (known as E–Purses) are pre–loaded with $250 per quarters. The college does not offer subsidized youth, senior or disabled ORCA cards. See ORCAcard.com to compare rates on what works best for you.
Faculty and staff members may purchase an ORCA Card or parking permit according to their job classification:
Exempt, classified, full-time faculty, and part-time faculty working at least 50 percent FTE for more than two consecutive quarters may obtain an ORCA Card for $51 and the TMP/CTR fee. Fees may be paid through a payroll deduction, and passes can be picked up from the Transportation Coordinator. Check with the Transportation Coordinator to see if you are eligible for ORCA Card payroll deductions.
Hourly staff working less than 50 percent FTE, and part-time faculty working at least 50 percent FTE who have not worked more than two consecutive quarters at or above 50 percent FTE, may obtain either an ORCA Card or parking permit (but not both) by paying the TMP/CTR fee and ORCA Card fee or the parking fee respectively. The fee will need to be paid at the Cashier's Office. Before visiting the Cashier, a quarterly transportation application form must be completed at your campus department to verify your percentage of employment.
All sales are final. North cannot provide TMP fee refunds or ORCA card refunds or exchanges. At no time during the quarter may employees or students who have purchased an ORCA exchange it for a parking permit, or vice versa.
ORCA Lyft
If you are 19-64 years of age and have limited income, you may be eligible for an ORCA Lyft card through the transit agencies, please click here for information.
ORCA Plus
Students can use their $250 ORCA Plus card on a per trip basis or they can stretch their dollar further by converting those funds to unlimited monthly Pugetpass.
How ORCA Plus works
ORCA Plus cards are pre-loaded with a value of $250 called an E-Purse
Cards can be used on a per trip basis automatically deducting fares from your balance each trip OR
Cards can be converted to an unlimited monthly pass called a PugetPass / Regional Pass*
All cards are reloadable beyond the original purchase value
How to convert your ORCA Plus to an unlimited monthly PugetPass
Visit ORCA customer services at King Street Center, 201 S. Jackson St or the Westlake Customer Stop at the Downtown Seattle Transit Tunnel M-F.  Please note: You can only convert your $200 to a monthly pass at these locations, not at other transit retail outlets
Choose your fare value, $2.25 - $4.75 per trip 
For specific fare and monthly pass information, please visit metro.kingcounty.gov. Under Ride Metro, click on fares then Passes & tickets
*Monthly passes are accepted on Metro, Community Transit, Everett Transit, Kitsap Transit, Pierce Transit and Sound Transit.
Lost ORCA Card
Please take good care of your pass - North cannot replace lost, stolen, or misplaced ORCA cards. If you lose it, you'll need to purchase a new one at the current price.
Transit Subsidies
Transit Subsidies are available for both eligible students and employees who are not well served by an ORCA Card, and who do not purchase a campus parking permit; a student can receive up to $60/quarter and an employee can receive up to $58/month for using the Washington State Ferry service as a walk-on passenger.