Registration
Welcome>>1: Getting Started>>2: Registration
Now that you have learned about how to get started at NSC, this segment will discuss the registration process. You will learn about the types of classes offered at North, how to plan your class schedule and register, and various online services available. By the time we're finished, you'll be totally ready to schedule your first class. So let's get going.
Class Formats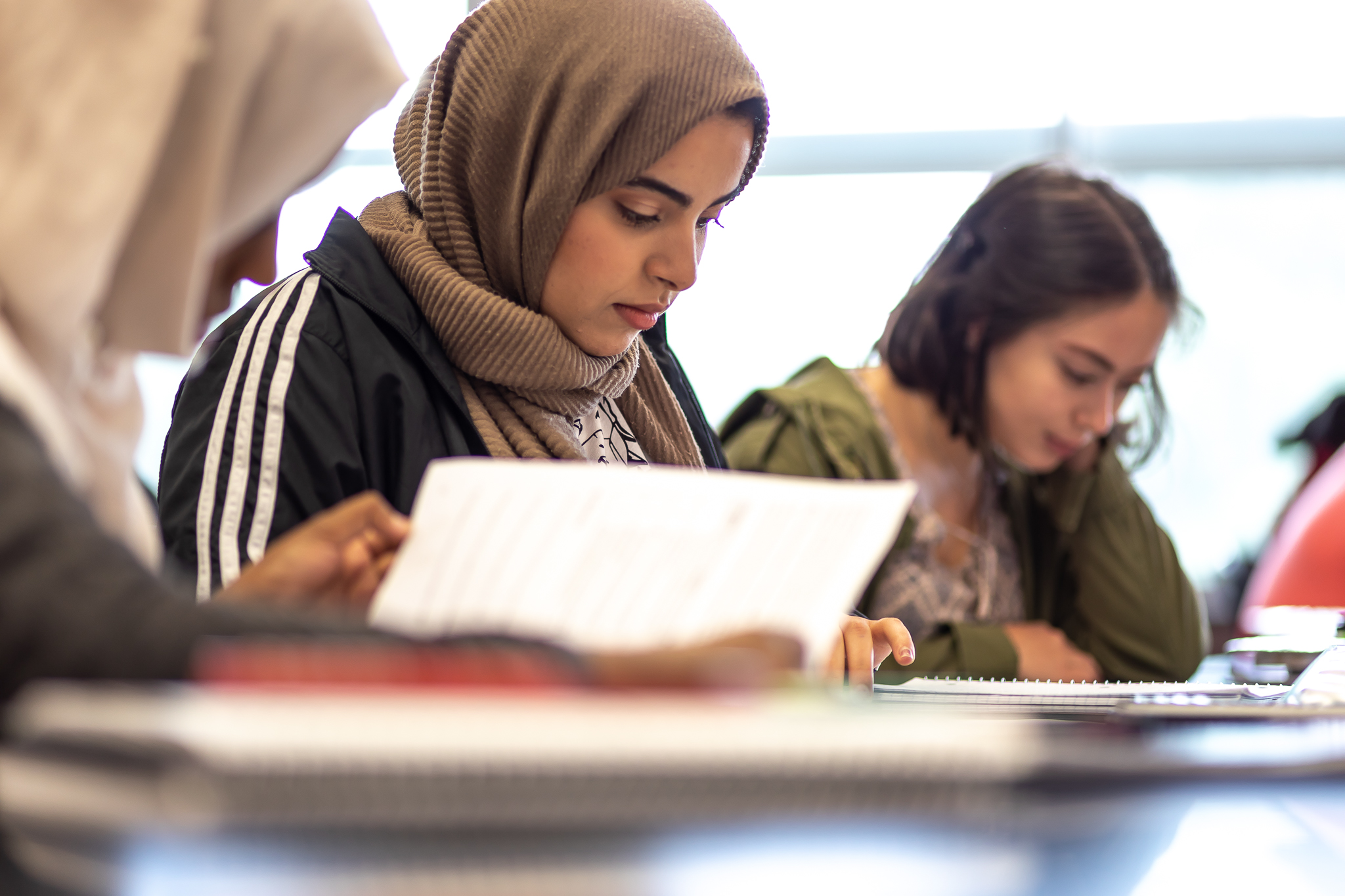 There are three class formats at NSC— on-campus, online, or hybrid.
On-campus morning, afternoon and evening classes
The majority of on-campus classes are scheduled in the morning or afternoon. There are also many evening classes that usually meet daily or twice a week. A limited number of classes run on Saturdays.
Online
This convenient option means you can take courses from the comfort of your own home or anywhere you have Internet access! These fully online classes do not require campus visits although some may require exams taken on campus or proctored elsewhere with pre-approval. A few primarily online classes do have a few required campus meetings (usually three or four per quarter).
Hybrid Classes
Hybrid courses combine online instruction and interaction with reduced face-to-face campus class time. Most hybrid classes meet once or twice a week for a total of three hours of face-to-face time, with the remaining class activity such as discussion and content delivery taking place online at the times when the student can log in.
Is eLearning Right for You?
e-Learning courses require access to a computer and Internet connection. Students without a home computer can use one in the labs on campus.
Online courses are rigorous and require you to be disciplined and self-motivated. Most e-Learning courses have more readings and assignments than on-campus classes to ensure that your course time is equivalent to an on-campus class.
If you would like to find out more, visit NSC's e-Learning site. Take the test at the link in Related Info section below, "Is e-Learning for You?" to see if online classes are right for you.
Plan Your Schedule
You should meet with an academic advisor early each quarter to plan your schedule for the next quarter and to ensure you get the classes you need to complete your program.
Watch this video demonstration to guide you through using the online schedule and various tools and services on the Web.
Academic Calendar
The Academic Calendar provides important dates and deadlines, such as the first day of the quarter, last day to receive a refund, and the last day to withdraw. These dates also appear in the online class schedule.
Quarterly Class Schedules
Schedules of course offerings are published each quarter and are available at various locations on campus. The online schedule has the most up-to-date information and useful search tools to help you find classes that fit your specific needs.
Browsing the schedule by course, instructor or department may be done using the schedule's menu. Those who prefer to have all the sections of a course grouped together may find it preferable (and faster) to navigate the schedule using this menu rather than doing a search for all courses of a particular department. Schedule search results list individual course-sections in alphabetical order by course number.
It is also possible to do an automated search for classes that meet various criteria using the schedule search form on the introductory page in Class Search for each quarter. Transfer degree requirements, credit amounts and other attributes can be specified to limit the results to only those classes that meet your needs. You can even specify the days and times you are available to find those classes that fit within your schedule.
This schedule is currently informational only. To enroll in classes, you must use the registration system discussed in the section "How to Register."
Online Services
Quickly and easily take care of your college business through Online Services. You can look up your schedule or grades; register, add or drop classes, update your home address, e-mail or phone number; change your PIN; pay your tuition; confirm your Web registration start time; check your waitlist status; and get enrollment/degree verification.
Two of the most important services available online are paying tuition and setting up your Net ID account.
Pay Tuition
Tuition is due within 7 business days after you register or prior to the first day of the quarter, whichever comes first. There are 3 ways to pay your tuition:
• Through the deferred payment plan, which allows you to pay your tuition in multiple installments
• Through Online Services
• In person at the Cashier's Office
Net ID
A NetID account is available to all currently enrolled NSC students. You must have a NetID in order to access most computers on campus. NetID accounts also provide access to many other services. New students can create a NetID account after they have enrolled.
How to Register
Although you can register in person at the Registration Office, most students register online for their classes. You will need to be aware of how to add and drop classes, how to add yourself to or remove yourself from a wait list, and how to use entry codes when needed.
Adding Classes
You may register on a space-available basis at Online Services or submit an Add/Drop form to the Registration Front Counter Services to register or change your schedule.
• Through the fourth day of the quarter
Classes may be added through Online Services or in person WITHOUT an instructor's signature and on a space-available basis.
• Fifth through the tenth day of the quarter
Classes may be added only with an instructor's signature or with an e-mail from an instructor for elearning classes.
• After the tenth day of the quarter (the eighth day in summer quarter)
Students may no longer add classes.
Dropping Classes
You can drop a class through Online Services or in person through the tenth instructional day of the quarter (eighth day for summer) without a record of the dropped class appearing on your academic transcript.
Withdrawing from Classes
You may withdraw from classes using Online Services or in person. A grade of "W" will be recorded on your academic transcript for withdrawals made after the tenth instructional day of the quarter (the eighth day for summer). A "W" grade will remain permanently on your transcript.
After the eighth week of the quarter (the sixth week of summer quarter), you may not withdraw from classes. If you have missed the deadline, please talk with your instructor about other available grade options.
Waiting Lists
The waiting list feature offers you a fair and consistent method of being enrolled into a full class if openings occur. If a class with the waiting list option is full and you choose to be put on the waiting list, you will be automatically enrolled in the class when a space becomes available. You will receive an e-mail alert every time your waiting list status changes.
If you have a "hold" on your college record that prevents you from being added to a particular class from the waiting list, you will also be notified of the hold as soon as you are added to the waiting list. You should take steps as early as possible to clear the hold. Once you have arrived at position one (1) on the waiting list, you will have two business days to clear the hold or you will be dropped from the waiting list. Please contact the telephone number provided by the e-mail alert to clear the hold.
You will also be notified by e-mail alert that you have been registered for the class. However, it is ultimately the student's responsibility to check waitlist status daily through Online Services. You will have 24 hours to pay for outstanding tuition and fees. If you decide you no longer want to be on the waiting list for a class, you must remove yourself from the list by going to "Check Waitlist Status" in Online Services.
If you have not been registered via the waiting list process by the first day of classes, go to the class on the first day. The automated waiting list process will continue to enroll students into classes through the fourth day of the quarter (third day for summer). If you have not been enrolled by this date, you may request an instructor's signature for permisson as an "overload" and register in person.
Some classes may not have a waiting list option.
Important Note: Students on a waiting list who do not show up to class during the first sessions of the class may lose their waiting list place to another student who wishes to be enrolled.
Entry Codes
Entry codes are five-digit numbers issued to students for classes that have unmet prerequisites, prerequisites met at another college or that require permission by an instructor. Entry codes are used for registration online. Once an entry code has been used, the computer will not accept the same code again. Entry codes are available for unmet prerequisites through Advising, or, for permission classes, from the academic division.
Conclusion
I hope you now feel comfortable with registering for your first quarter of classes. Remember to pay your tuition on time!
Related Info