How Many Units Should I Take?
Not sure how many units (credits) to register for? Read this webpage or speak with your advisor to help you make an informed choice that is right for you.
The number of units you take determines whether you are attending full time or part time.
Full-time = Any combination of classes amounting to 12 units or more

Part-time = Any combination of classes amounting 11 units or fewer

Each class is worth a certain number of units (most are 5 units).
Units translate to hours in class. Typically, 1 unit = 1 hour of class time.
Deciding how many units to take depends on a combination of factors, as described below.
Factors to Consider When Choosing How Many Units to Take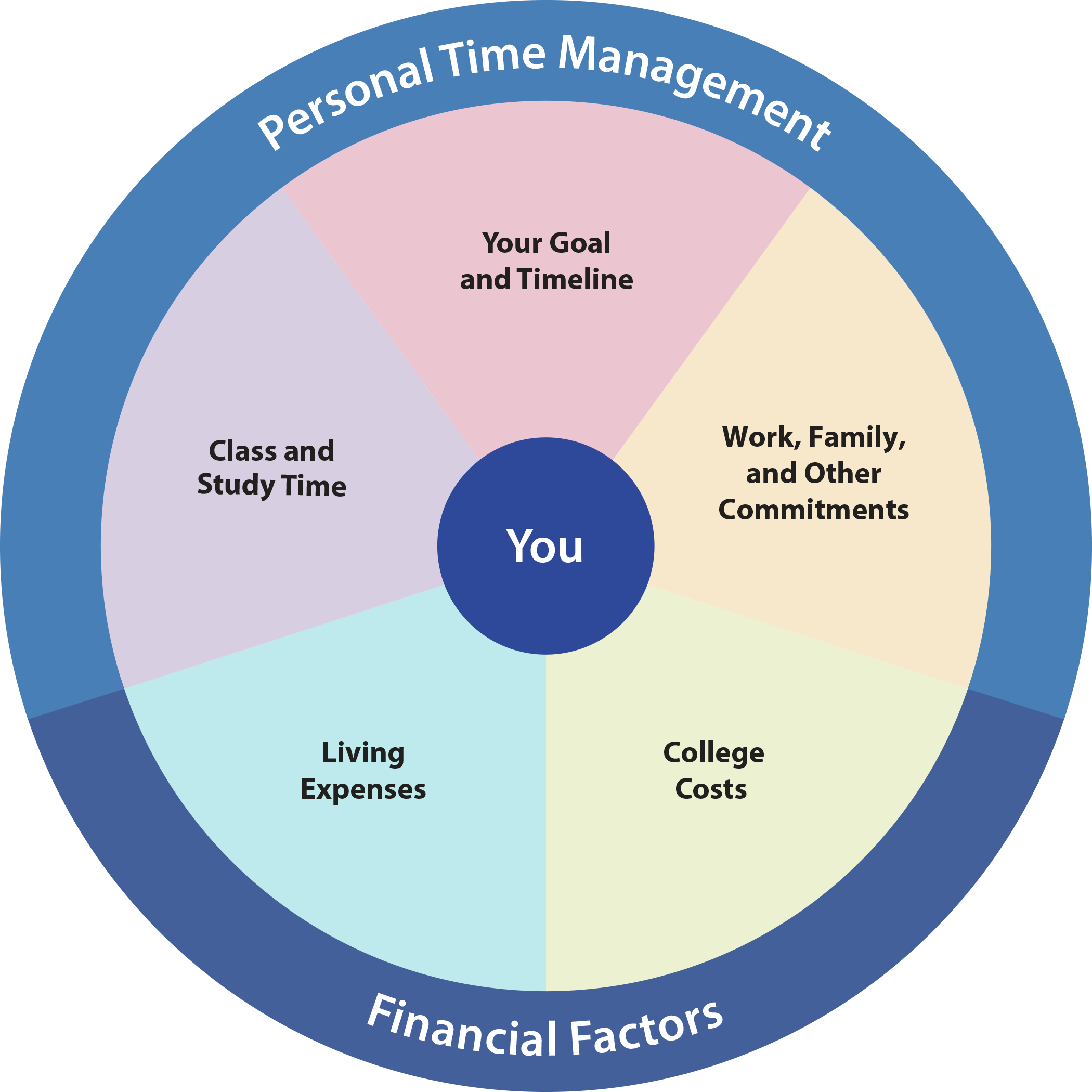 How Long Will It Take?  
Example: If you are seeking a 90-unit associate degree and planning to attend Fall, Winter, and Spring quarters, this graphic shows how long it will take to complete. Note that if you also take classes Summer quarter, the time to completion would be shorter.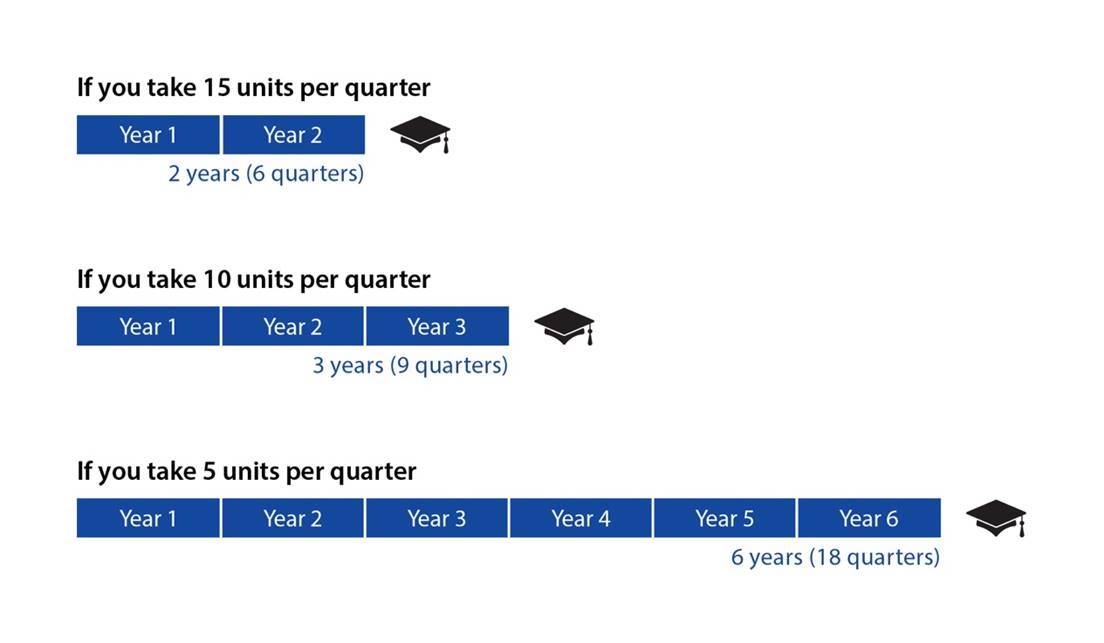 Think about your educational goal and how quickly you want to reach it.
Are you seeking a certificate, associate degree, Bachelor of Applied Science (BAS) degree, or just taking a few classes?
Do you plan to work when you finish or transfer to another educational institution for further education (such as a bachelor's degree)?
Where do you see yourself in 2 years? 4 years?
You may have work, family and household responsibilities, and other commitments that will impact the number of units that you can take each quarter.
Be realistic about the amount of time these commitments will take. Think about the small details that require additional time. If you work, consider details such as commute time, anticipated overtime, shift changes, and busy periods (such as November/December in retail).
Consider what it will cost to attend North each quarter. Costs include tuition and fees, as described below. Additional costs include textbooks and supplies you may need to purchase for certain classes.
Financial aid can help you cover these costs. If you are receiving financial aid, your net cost will be what you pay.
Net cost = (Tuition + fees) – financial aid
Both part-time and full-time students may be eligible for financial aid. You may receive more financial aid if you take more units.
Tuition and Fees
The cost of tuition depends on the number of units you take. Below is the cost per quarter. The amount of money you have to pay will be lower if you receive financial aid.
For Washington resident students (for 2021-22)
Each unit, up to 10 units, costs $116.05/unit
After 10 units, the cost per unit is lower: $57.46/unit
Each quarter you will pay fees. Fees are dependent on specific courses and programs of study.
Textbooks and Supplies
Remember that textbooks, tools, materials, required clothing, and supplies cost extra. Some students may be eligible to receive financial assistance to cover these costs.
Contact the Financial Aid Office or the Workforce Education Office for more information
Living expenses include rent/housing, food, utilities, childcare, and transportation. You may need to support yourself and your family while you are in college and you may need to work to cover these expenses.
If you need help navigating financial challenges and covering basic needs, North has resources that can help. The Money, Food, & Housing page provides a list of these resources, which includes the United Way Benefits Hub on campus. If you need help finding employment, contact Career Services.
Consider the amount of time you will spend not only in class, but also studying. The table below provides an estimate of the time you might expect to spend on school. Time needed for study varies from student to student and depends on factors such as study environment, class difficulty, study habits, and time needed to rest and restore. Think also about the time you need to dedicate to get the most out of your classes.
If you are receiving financial aid, remember that you must maintain satisfactory academic progress in order to stay eligible for financial aid.
Example: Estimated Weekly Time Spent on School
| | | |
| --- | --- | --- |
| Units per quarter (# of hours in class) | Hours studying | Total Hours |
| 10 | 20 | 30 |
| 15 | 30 | 45 |