Apply Now for Admission
Our next application deadline for our Bachelor's program is 10/31/18. Students who apply by this deadline would be eligible to begin the program in Winter 2019, focusing on general education and/or elective credits in the 2018-19 school year before beginning the Bachelor's cohort in Fall 2019. If you already have an Associate Degree (or equivalent credits) but still need to complete our program prerequisites, you are encouraged to apply to the program now. It is recommended that candidates email Program Manager Anne Garrett at anne.garrett@seattlecolleges.edu to have an unofficial transcript evaluation and to discuss program logistics.

The program hopes to accept international students in future cohorts. Please contact us to inquire further.

The program hopes to accept international students in future cohorts. Please contact us to inquire further.
ECE in the news!
NSC faculty member Samantha Dolan, and soon-to-be graduate, John Cooley, talk about the Early Childhood Education B.A.S. program on King 5's Morning Show!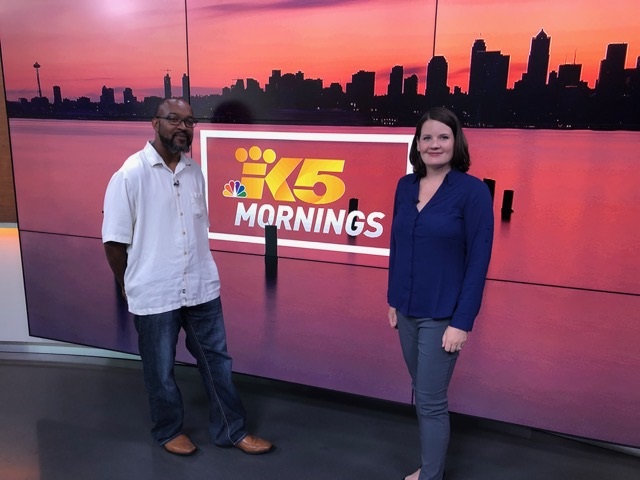 Admissions Appointments
Would you like to speak with someone about the Early Childhood Education BAS Degree? Concat Anne Garrett, ECE BAS Program Manager, to schedule a 1:1 advising appointment, at anne.garrett@seattlecolleges.edu.
About the B.A.S. ECE Degree
North's Early Childhood Education Bachelor of Applied Science (ECE B.A.S.) degree provides an opportunity for students who have completed an associate degree in Early Childhood Education or a related program to continue their studies and earn a Bachelor of Applied Science degree.
The degree provides professional development training for early care and education professionals, allowing them to keep pace with the increasing professionalization of the field. The curriculum is designed to align with accreditation standards established by the National Association for the Education of Young Children (NAEYC) and the Council for Accreditation of Educator Preparation (CAEP).
Required ECE B.A.S. courses are offered in the evenings and require students to be in class only two evenings a week. This schedule allows many ECE B.A.S. students to work during the day and complete their bachelor's degree at night. ECE courses are hybrid, blending two-night-per-week evening meetings with online classroom activities and assignments that can be completed at home or elsewhere. General education courses, where applicable, may be completed at the student's convenience.
ECE B.A.S. courses follow a specific sequence. No summer classes are required. Students can complete the degree in as little as six quarters, although many students will require more time.
Please contact the program manager Anne Garrett if you are interested in this program.
Building on Established Pathways
The ECE B.A.S. degree is built on the Statewide Stackable certificates and the Associate in Applied Science (A.A.S.) and Associate of Applied Science Transfer (A.A.S.-T) degrees.
An applied four-year degree in Early Childhood Education that builds on practical early care and learning skills is in rapidly increasing demand by preschool providers throughout greater Seattle and the state of Washington. Local government and accreditation policy is being designed to increase the positive impacts of ECE teachers on the progress of early learners.
Although not a requirement, ECE teachers who are fluent in more than one language have an extra skill that employers need—particularly if that second language is paired with knowledge of good early care and learning and cultural competency.
North also has an ECE I-BEST pathway which can help adult basic education and English as second language students to begin working toward enrollment in the ECE B.A.S. degree program.
Please email Anne Garrett for more information or leave a message at (206) 934-4587.
Program Manager
Anne Garrett
(206) 934-4587
Workforce Instruction Division
 
Location
2312B
 
Division Contacts
(206) 934-3730
 
Mailing Address
NSC Workforce Instruction Division
9600 College Way N
3NC2312B
Seattle, WA 98103
 
Dean