Applications for the Fall 2020 cohort are being reviewed on a monthly basis until filled. Submit your application by the 1st of each month to be considered! (Next review dates: June 1st, July 1st, August 1st)
Every industry needs accountants, and the Accounting, with International Accounting Bachelor of Applied Science (AIA B.A.S.) program provides graduates with the knowledge and skills required for employment in the field of accounting.
Program Highlights
· Small class size – average cohort size of 25-30 students
· 100% online – all Accounting, with International Accounting classes are fully online
· Internship experience that can lead to job offers
· Affordable tuition
· Use past credits or degrees to finish within two years
Building on Established Pathways at North
The degree builds on an associate of applied science (AAS-T) degree in business, accounting or real estate, and provides students with preparation for, and a clear pathway toward, meeting the Washington State CPA licensure requirements. Students from several different business, accounting, and real estate programs will be qualified to enter the Accounting, with International Accounting BAS program. The degree will also provide a thorough understanding on International Financial Reporting Standards (IFRS) to enhance skills relevant to employment in the Seattle area. The degree will provide knowledge and skills needed in the occupation, including organization of workload, application of FASB/GAAP principles and GAAS auditing standards, effective business communications, understanding of legal and ethical frameworks for business, intermediate transaction posting and financial statement preparation, and use of general ledger software.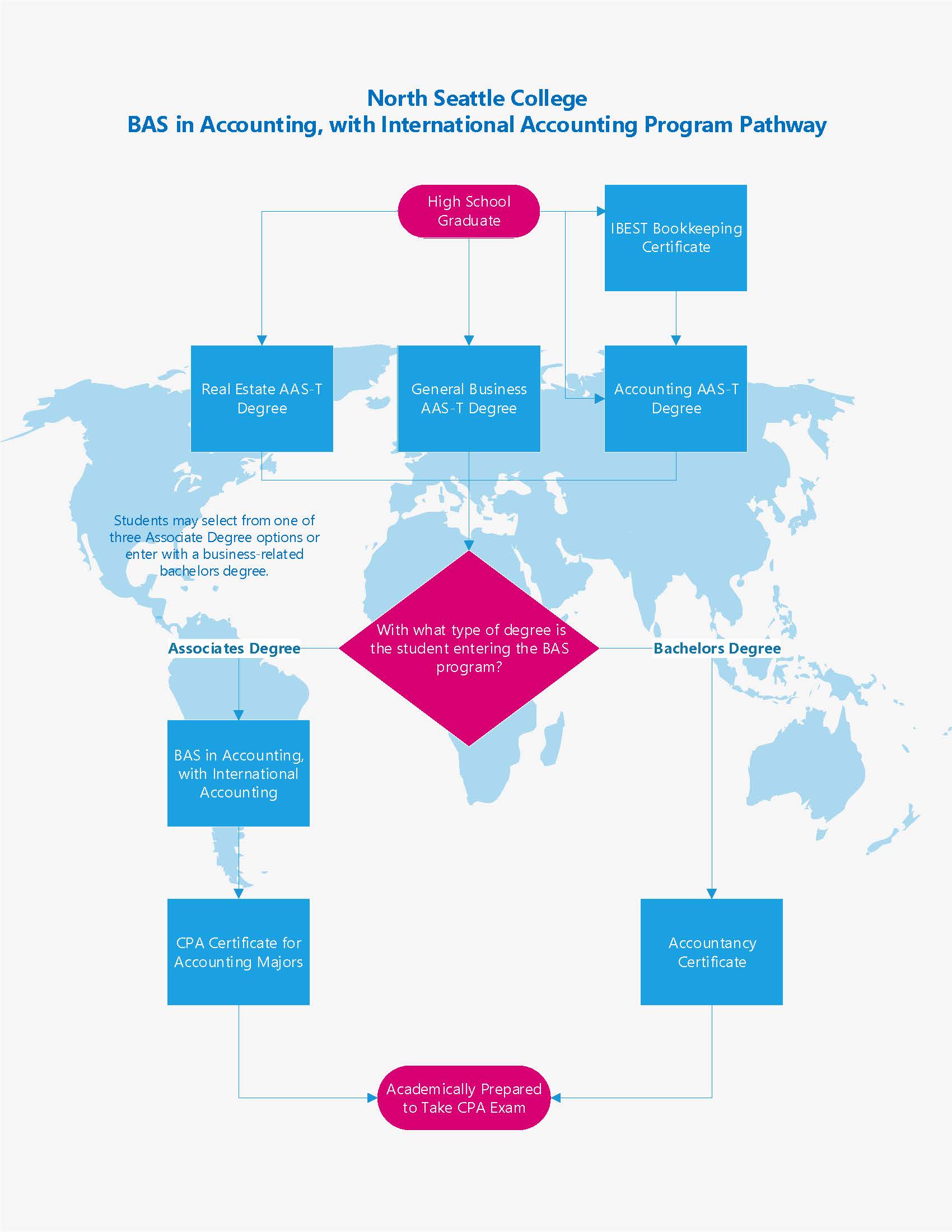 Contact Information
Jesse Cooley
BAS Program Director
email
(206) 934-7794

Workforce Instruction Division

Location
IB 2301

Division Contacts
email
(206) 934-7794

Mailing Address
NSC Workforce Instruction Division
9600 College Way N
3NC2312B
Seattle, WA 98103

Dean
Aaron Korngiebel