This program has been approved for development by the State Board for Community and Technical Colleges and is scheduled to begin in fall 2020. Applications should open in spring 2020.
If you would like to get on our mailing list to receive updates on the development of this program, click here. Check back to this web page for updated information.
A rewarding career
Every industry needs accountants and auditors. As the Seattle area economy grows, demand for accountants will continue to grow. The program will prepare students for Certified Public Accountant licensure. There were nearly 3,000 job openings in the Seattle area in 2017 for accountants and auditors. According to EMSI, Inc., in the first half of 2019, nearly 1,200 accountants were hired in the region. There are currently 29,400 accountants in the area, and that number will grow by 11% over the next ten years. As Seattle is the fourth largest exporting city in the United States, the program will provide students with an introduction to international accounting to prepare graduates for employment multinational organizations in the region or around the world. The median earnings for accountants and auditors in Seattle is $77,000.
A rewarding occupation
The Accounting, with International Accounting Bachelor of Applied Science program provides graduates with the knowledge and skills required for employment in the field of accounting. The degree builds on an associate of applied science (AAS-T) degree in business, accounting or real estate, and provides students with preparation for, and a clear pathway toward, meeting the Washington State CPA licensure requirements. Students from several different business, accounting, and real estate programs will be qualified to enter the Accounting, with International Accounting BAS program. The degree will also provide a thorough understanding on International Financial Reporting Standards (IFRS) to enhance skills relevant to employment in the Seattle area. The degree will provide knowledge and skills needed in the occupation, including organization of workload, application of FASB/GAAP principles and GAAS auditing standards, effective business communications, understanding of legal and ethical frameworks for business, intermediate transaction posting and financial statement preparation, and use of general ledger software.
Program Pathway
Below is the program pathway for students interested in a career in accounting. Note the different pathways for students based on the post-secondary degree they currently hold (Associates or Bachelors).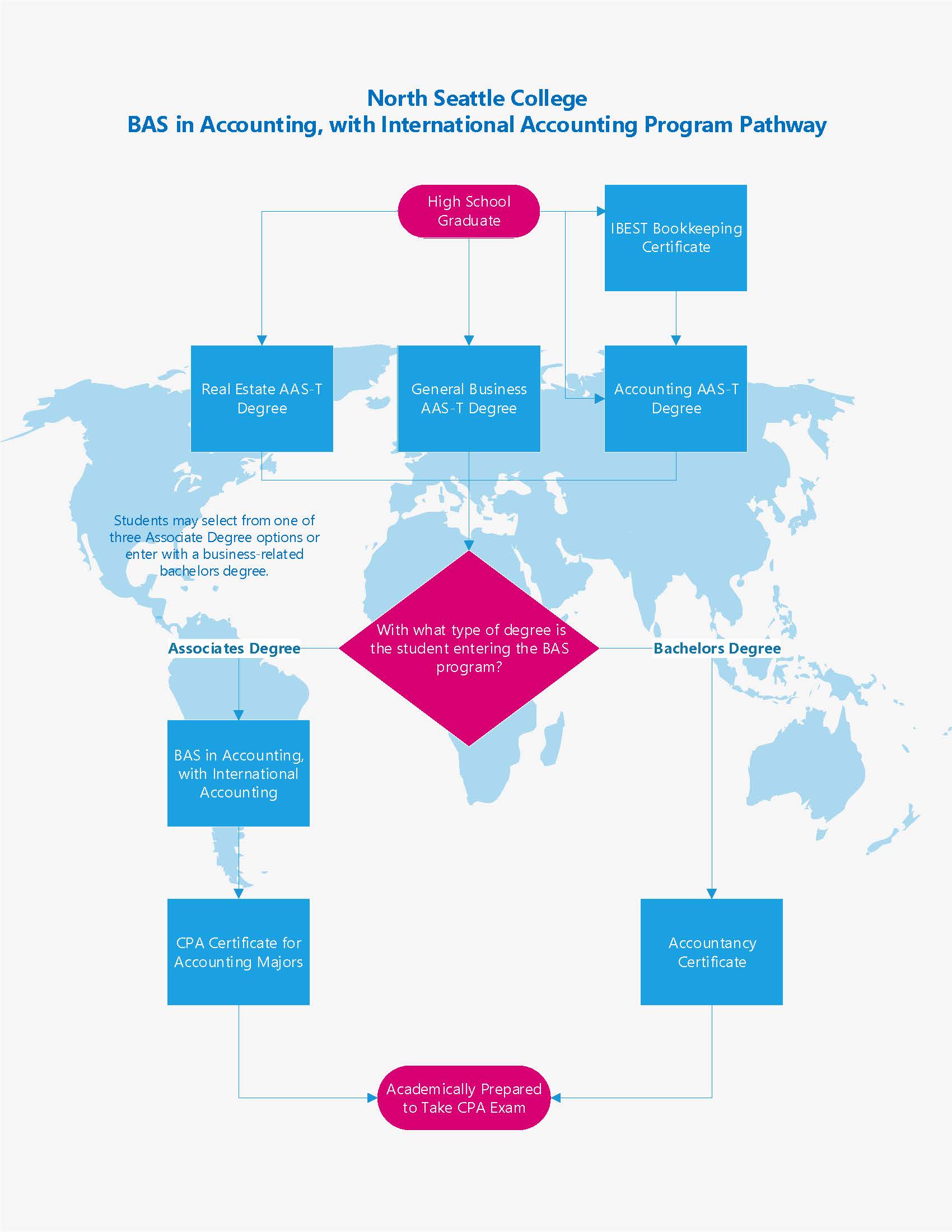 Tentative Course List
Junior Fall
Introduction to Information Resources for Research
Intermediate Accounting I
Professional Development for Accounting
General Education Class
Junior Winter
Intermediate Accounting II
Taxation of Corporations, Partnerships, Estates and Trusts
Technical Writing (or other Communications elective)
Junior Spring
Cost Accounting
Accounting Information Systems
Public Speaking (or other humanities and arts class)
Senior Fall
Accounting for Not-for-Profit & Governmental Entities
Ethics in Accounting
Natural World Elective
Senior Winter
Auditing
International Accounting
Micro or Macro Economics (or other general education class if both are already taken)
Senior Spring
International Taxation
Baccalaureate Internship
General Education Class
Program Pre-Requisites
Students interested in the Accounting with International Accounting BAS degree program should be aware of the program pre-requisites which must be fulfilled prior to program entry.
Students entering the AIA BAS program will, in general, need to have completed an associate degree and have taken the following pre-requisite classes for entry:
• ENGL&101 English Composition
• ACCT&201 Financial Accounting I
• ACCT&202 Financial Accounting II
• ACCT&203 Managerial Accounting
• BUS&201 Business Law, or RES170 Real Estate Law
• BUS210 Business and Economic Statistics
Interested students should make sure they have completed these classes and other equivalent requirements prior to program enrollment in the fall 2020. Contact the program director if you have questions regarding program entry requirements.
BAS Courses
After completing an applied associate degree in business, accounting, or real estate, including the pre-requisite courses, students will enter the upper division BAS program taking about 15 credits per quarter (full time) for six quarters. BAS students will take six general education classes and 12 or more 300 and 400-level business and accounting core content classes covering topics that may include:
• Intermediate accounting principles and practices
• Taxation of corporations, partnerships, estates, trusts and international taxation
• Cost accounting
• Accounting information systems and information resources
• Auditing
• Not-for-profit and government accounting
• International accounting standards and issues
• Ethics and professional development in accounting
Students will also participate in an accounting internship for credit, prior to graduation.
Contact Information
BAS Program Director
(206) 934-7794
Workforce Instruction Division
Location
IB 2301
Division Contacts
(206) 934-7794
Mailing Address
NSC Workforce Instruction Division
9600 College Way N
3NC2312B
Seattle, WA 98103
Dean