Awards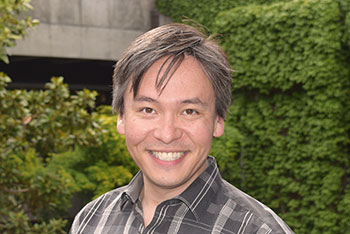 Congratulations to Geoff Palmer, the 2019 Distinguished Alumni Award winner
North Seattle College has selected Geoff Palmer to receive North's 2019 Distinguished Alumni Award. A big congratulations to Geoff, who is at the heart of the North community and is very deserving of the award.
Geoff is a full-time Sociology faculty member in the Department of Arts, Humanities and Social Sciences at North Seattle College. Geoff's colleagues describe him as inspirational, respected, caring and hilarious. Those who know Geoff, know an enthusiastic and positive person who radiates that positivity outwards to other people.
In nominations for the award, Geoff was described as an inspiration to North students and to the campus community, and he finds inspiration at North. "The number one thing I love about North is its people; North collects wonderful people. We have a community here, and that's really valuable," Geoff said.