Sundas Khalid
Data Scientist, North Seattle College alumna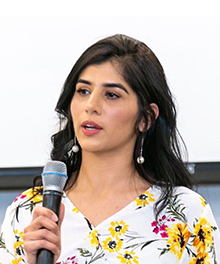 Sundas Khalid is a Data Scientist at Amazon, Team Lead and Board member for Pakistani Women in Computing, University of Washington (UW) Seattle Valedictorian, and North Seattle College alumna. Sundas is a first-generation immigrant and the first-female in her family to graduate college.
Sundas started her educational journey after a six-year gap between her high school and college, and resumed her bachelor's degree at North Seattle College while raising two young kids. In 2012, Sundas transferred to UW Foster School of Business where she built a stellar profile as a student and a leader. She served as the President of Business Information Technology Society, a student led organization, and won Student Leadership Award for her work as the student leader. While studying at UW, Sundas interned at Amazon and earned 1st place among all intern presentations in addition to a return offer. She was also selected as the valedictorian at UW graduation in 2014 and gave a speech to an audience of 3,000 students, parents, staff and faculty.
Currently, Sundas works as a Data Scientist (one of the hottest tech jobs in the U.S.) in Amazon's A/B testing platform and science team, a centralized team for testing and launching new features to the Amazon site worldwide. She has built a stellar profile of work at Amazon, giving about +20 presentations and working with several teams across Amazon, including Alexa, Amazon Music, Search (A9), Amazon Devices, Amazon Kindle, and PrimeNow. In November 2018, Sundas received two recognition awards for her exemplary work at Amazon.
Being the first-female in her family to hold a college degree, Sundas is an avid supporter and passionate about women's education and workforce diversity. She believes in helping and empowering others. Currently, Sundas is a core committee member for Amazon in Women in Engineering Consumer Engagement and supports diversity activities and talent retention. Outside of work, Sundas is a board member and Team Lead for Pakistani Women in Computing Seattle chapter. As part of her work in Seattle, Sundas was awarded "Women Empowerment Award" by Pakistan Association of Greater Seattle on March 23rd 2019—recognizing her contributions towards building an empowering community and a support system for women in tech.
Sundas has received recognition on several platforms for her work, including University of Washington Seattle, Amazon Intern Program, Women in Tech Show, Google GHC Scholar program, Twitter Lunch with Executive Team, Anita Borg Institute and more. She was recently featured by Wogrammer and People of Color in Tech to celebrate her accomplishments. Sundas continues to embark new endeavors in her journey and inspiring others along the way.