Patricia Wolfram
Member, Haller Lake Community Club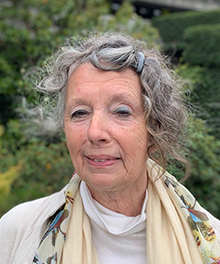 Patricia Wolfram is a member of the Haller Lake Community Club. The Haller Lake Community Club is 90 years old, and the group is active in trying to maintain the integrity of the neighborhood. Haller Lake is the only community club in the city that owns their own building, which houses the Creative Dance Center. Haller Lake is a lively environment, where neighbors can always find a group to share their interests and use their support.
Patricia grew up in Phinney Ridge, and built a house in Haller Lake more than 30 years ago. She has spent her whole life in this area, and is active in the neighborhood P-Patch, book club, and writing club. Patricia starts each morning with a swim in Haller Lake, where her company may include may include an osprey, kingfishers or a single blue heron.
Patricia received her undergraduate and graduate degrees from Seattle University, where she studied Social Work. Patricia worked throughout the Seattle Public Schools over the course of her career, and she spent the last twelve years working in Bagley Elementary. Patricia currently substitute teaches in the district.