Equity at North
Welcome from the Associate Vice President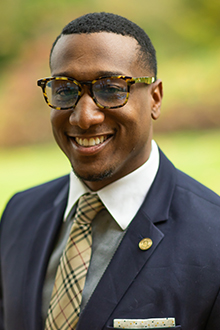 On behalf of the Office for Equity, Diversity and Inclusion at North Seattle College, I am humbled to welcome all students, faculty and staff to our Equity and Welcome Center. We are delighted for you to join our North family.
Building on the foundational work of the Seattle Colleges' goal equity, diversity, inclusion, and community: At Seattle Colleges, we firmly establish equity, diversity, and inclusion as a strategic goal and as human rights for all. We frame our decisions and actions with a lens of equity, diversity, and inclusion and are accountable to the community. Likewise, North Seattle College values promoting continuous learning and growth, we practice: Caring, Collaboration, Diversity, Innovation, Integrity, and Quality. These values are essential to the development of the framework that supports and advocates for the success of diverse and historically underserved communities on the North Seattle College campus.
The framework's objective is to identify and implement equitable strategies to end all racial and other equity gaps. With this framework, the North community opened the Equity and Welcome Center. The Center provides helpful resources for our students, faculty, staff and community that will inform our ongoing quest for racial equity and create a sense of belonging for all. Our work in the Center matters because race and inequities continue to matter in our country. Dismantling institutional practices, policies, and infrastructure that are the root cause of equity gaps is the mission of the Office for Equity, Diversity and Inclusion at North Seattle College.
I invite you to stop by the Equity and Welcome Center on the first floor of the College Center building (CC1151).
Additionally, I would like to acknowledge [former] President Warren Brown, the President's Cabinet and Seattle Colleges Associate Vice President's for EDI whose mission-driven leadership provides a homeplace for the Center to thrive. Finally, many thanks to the OEDI family, student ambassadors, DICE and key-stakeholders for their hard work and deep dedication to the work. May you all be inspired to get involved while showing grace, moving in love and creating peace during this ongoing work.
All the best,
D'Andre Fisher, M.Ed
Associate Vice President
Equity, Diversity and Inclusion
Chief Diversity and Equity Officer
North Seattle College
North Seattle College Land Acknowledgment Statement
Submitted to President Dr. Warren Brown, faculty, staff, students and administration
January 9, 2019
On behalf of North Seattle College, we acknowledge that we occupy the traditional ancestral lands of the Coast Salish peoples, specifically the Duwamish Tribe—a people that are still here, continuing to honor and bring to light their ancient heritage. Without them, we would not have access to this gathering, dialogue and learning space. We ask that we take this opportunity to thank the original caretakers of this land who are still here.
These slides include different versions of North's Land Acknowledgment, including action items and activities in the notes below each slide.
A guide to Indigenous Curriculum can be found here.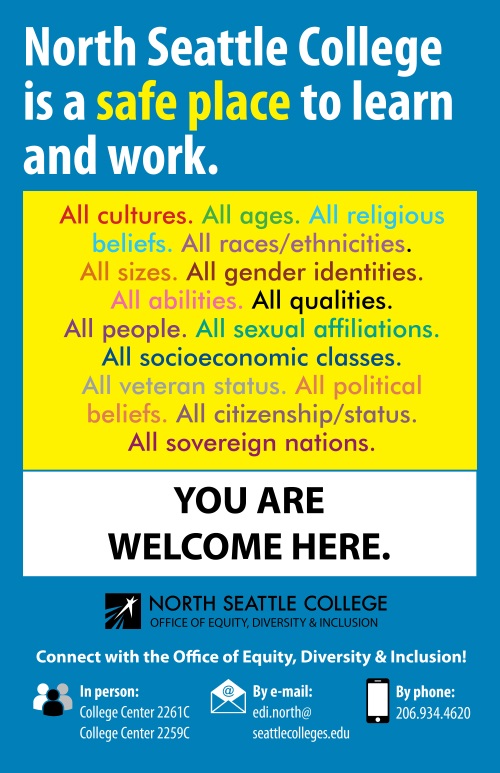 All cultures, ages, religious beliefs, races/ethnicities, sizes, gender identities, abilities, qualities, sexual affiliations, socio-economic classes, veteran status, political beliefs, and citizenship status and sovereign nations.
Selected Past Events and Actions
Black Lives Matter - Ways to Take Action

We urge you to explore this list, engage in conversations with your family and friends, and invest in this movement for the long term – this is a marathon, not a sprint.
Thank you for your willingness to dig deep, be vulnerable, and engage in the meaningful work of Equity, Diversity and Inclusion. 
Invest Time, Energy, Monetary Support and Mutual Aid
---
Invest in Our Collective Mental Health
---
Invest in Community Learning
---
Invest in Professional Development
These resource pages include web content, educational media, and community organizations: